1

Prologue: Why data science?
Information is what we want, but data are what we've got. The techniques for transforming data into information go back hundreds of years. A good starting point is 1592 with the publication of John Graunt's weekly "bills of mortality" in London (see Figure 1.1 and Figure 1.2). These "bills" are tabulations—a condensation of data on individual events into a form more readily assimilated by the human reader. Constructing such tabulations was a manual operation.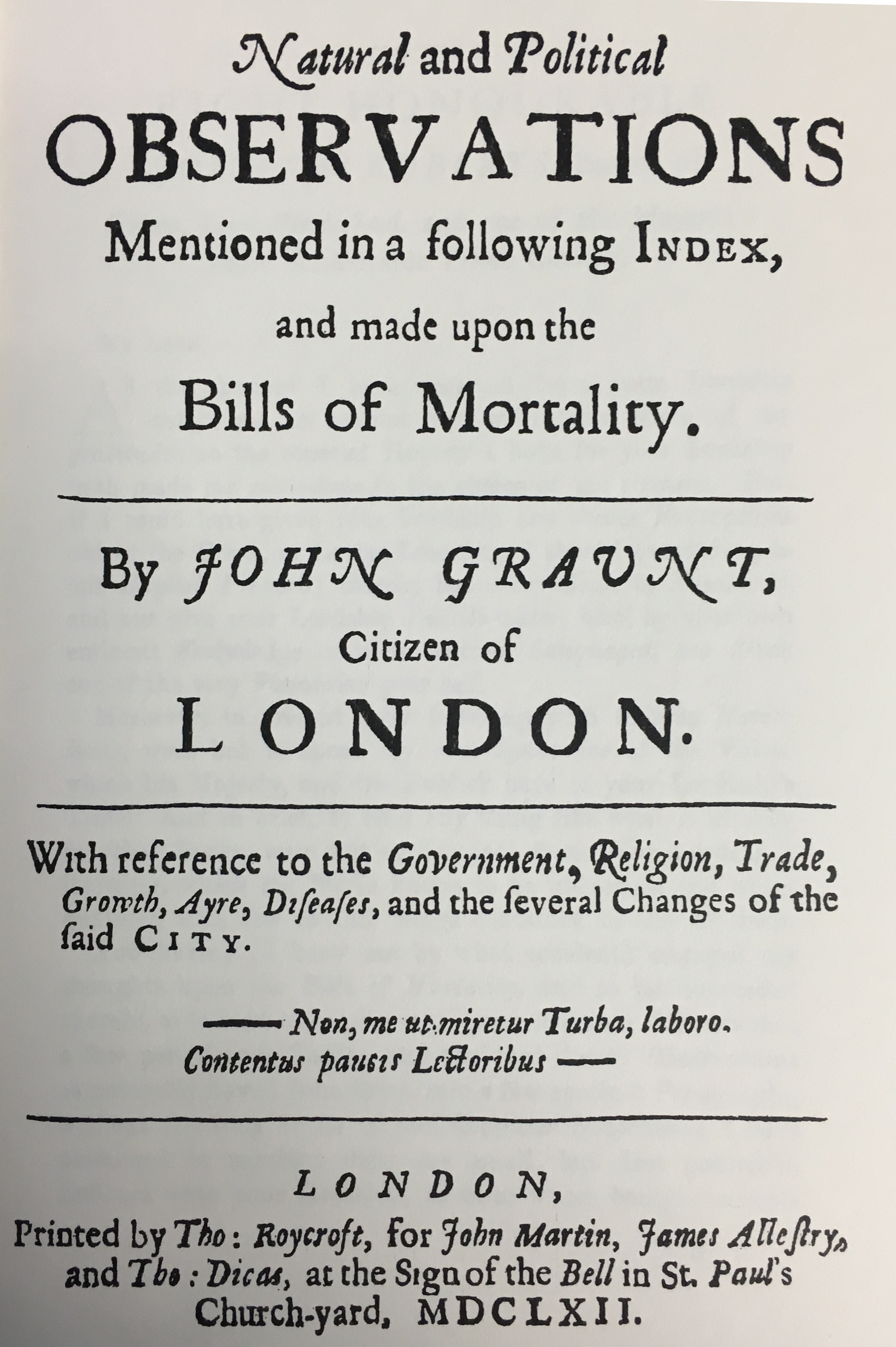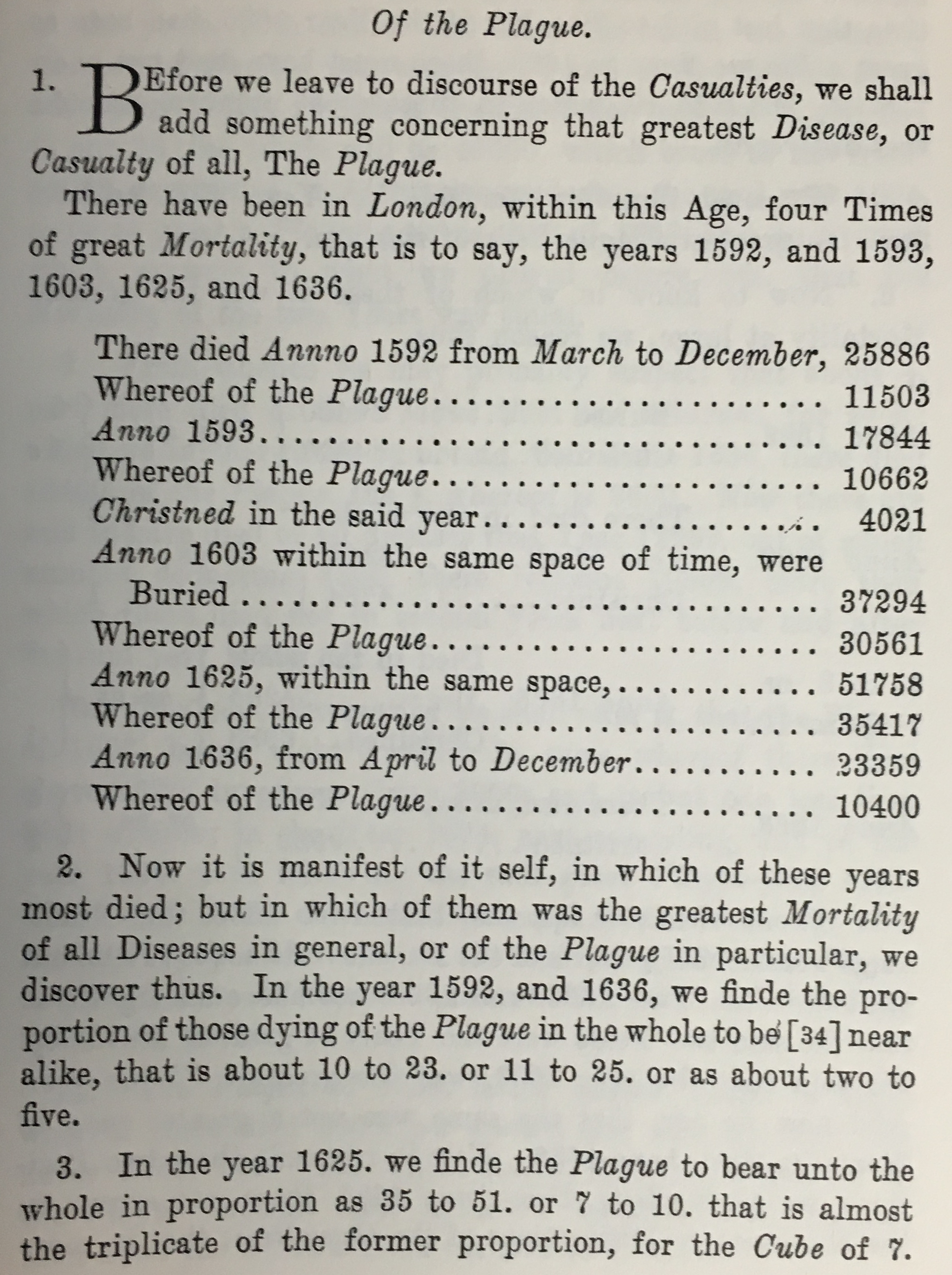 Over the centuries, as data became larger, machines were introduced to speed up the tabulations. A major step was Herman Hollerith's development of punched cards and an electrical tabulating system for the United States Census of 1890. This was so successful that Hollerith started a company, International Business Machines Corporation (IBM), that came to play an important role in the development of today's electronic computers.
Also in the late 19th century, statistical methods began to develop rapidly. These methods have been tremendously important in interpreting data, but they were not intrinsically tied to mechanical data processing. Generations of students have learned to carry out statistical operations by hand on small sets of data.
Nowadays, it is common to have data sets that are so large they can be processed only by machine. In this era of big data, data are amassed by networks of instruments and computers. The settings where such data arise are diverse: the genome, satellite observations of Earth, entries by Web users, sales transactions, etc. There are new opportunities for finding and characterizing patterns using techniques described as data mining, machine learning, data visualization, and so on. Such techniques require computer processing. Among the tasks that need performing are data cleaning, combining data from multiple sources, and reshaping data into a form suitable as input to data-summarization operations for visualization and modeling.
In writing this book we hope to help people gain the understanding and skills for data wrangling (a process of preparing data for visualization and other modern techniques of statistical interpretation) and using those data to answer statistical questions via modeling and visualization. Doing so inevitably involves, at the center, the ability to reason statistically and utilize computational and algorithmic capacities.
The National Academies "Data Science for Undergraduates" consensus report (National Academies of Science, Engineering, and Medicine 2018) noted that the vital new field of data science spans a wide range of capacities that they described as "data acumen." Key components that are part of data acumen include mathematical, computational, and statistical foundations, data management and curation, data description and visualization, data modeling and assessment, workflow and reproducibility, communication and teamwork, domain-specific considerations, and ethical problem solving. They suggested that all students would benefit from "awareness and competence" in data science.
Is an extended study of computer programming necessary to engage in sophisticated computing? Our view is that it is not.
First, over the last half century, a coherent set of simple data operations have been developed that can be used as the building blocks of sophisticated data wrangling processes. The trick is not mastering programming but rather learning to think in terms of these operations. Much of this book is intended to help you master such thinking. Moreover, while data science involves programming, it is more than just programming.
Second, it is possible to use recent developments in software to vastly reduce the amount of programming needed to use these data operations. We have drawn on such software—particularly R and the packages dplyr and ggplot2—to focus on a small subset of functions that accomplish data wrangling tasks in a concise and expressive way. The programming syntax is consistent enough that with a little practice you should be able to adapt the code contained in this book to solve your own problems. (Experienced R programmers will note the distinctive style of R statements in this book, including a consistent focus on a small set of functions and extensive use of the "pipe" operator.) Part I of this book focuses on data wrangling and data visualization as key building blocks for data science.